Posted by George •

Comments Off
TamiaTube.com
TamiaTube.com
TamiaTube.com
TamiaTube.com
Posted by George •

Comments Off
I have opened Tamia Tube again. This time I moved to a new URL.

Posted by George •

Comments Off
Hey guys, nothing much is going on with Tamia. I am currently in the process of relaunching Tamia Tube, I have a few videos to upload and then have to code the layout. For now enjoy this old performance. I will also be contacting Tamia's people to see what is going on with the DVD.

Tamia performed the Canadian National anthem "O Canada" at the NBA All-Star Game a few moments ago. Enjoy the video below as well as a download of the audio and the HQ video. She did an amazing Job! Enjoy!

If you cannot see the embedded video, click
here
to watch it.
Posted by George •

Comments Off
I have updated Tamia Tube with 2 videos. Check them out below.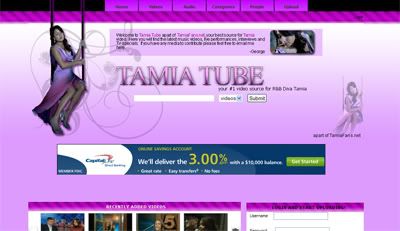 1. How Do You Keep the Music Playing
2. Verizon Wireless

Click the picture to visit Tamia Tube and watch the videos!
Posted by George •

Comments Off
Tamia Tube is finally open. Please be aware that it is best viewed in 1024 x 768 1280 x 800 resolution, but it works fine in other resolutions also (just a little off). Click the picture below to visit it! I won't be posting for a while just to let it sink it in.